Selecting the right color, when there are so many choices available, seems like an insurmountable job. Here at centered we've come up with a few methods to narrow the focus or get "centered" if you will. To begin with, we establish along with the client what the desired mood and feel is for the space. We would ask about their color preferences and if there is any art or furniture they may want to use in their new room. It's at this point we begin our trip down the inspiration highway.
One of our first stops is with fabric. Textiles are a fantastic smorgasbord of colors, patterns and textures. A room's entire pallet can be determined by this one find. Spindletop Draperies, located in the east end of downtown Louisville is sure to help.
Rugs can also do the trick. Recently, Mary and I found our way into a beautiful store in Louisville called Frances Lee Jasper. Their Rug showroom is spectacular and bursting with color stories. We are looking forward to finding many a design inspiration here.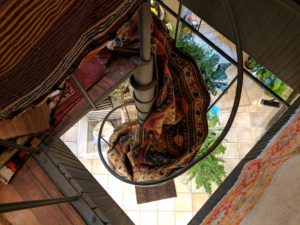 Wallcoverings too are a great jumping off point to determine a color focus. Being part of the trade has its perks as we are able to browse through books at Hubbuch and Co. in downtown Louisville. Linda Hubbuch has a plethora of wallpaper books from an endless variety of designers giving us a wealth of possibilities. One of our recent favorites comes from Romo, The Black Edition. Other favorites include Anna French by Thibaut and anything from the always inspiring, Farrow and Ball.
The Speed Art Museum serves us here in Kentucky with fine art from around the world. In March of this year we at Centered-Interiors had the honor of attending a Designer Summit, hosted by Monogram. The mission of the museum is to invite and inspire diverse audiences to experience the power of creativity. Our response is mission accomplished. We thank the people at Monogram for connecting us to a powerful resource for all of our design inspirations.

Where does all this inspiration take us? To the paint store be it Benjamin Moore, Sherwin Williams or Farrow and Ball . The experts there can color match your found treasure. Sherwin Williams offers help through their color snap visualizer app. This allows you to explore over 1500 Sherwin- Williams paint colors. Just tap anywhere on the photo until you have found the perfect match. Not to be out done Benjamin Moore has a similar app of their own called the color capture with more than 3,500 colors. Happy hunting!
Links:
www.spindletopdraperies.com
www.hubbuch.com
www.francesleejasper.com
www.speedmuseum.org
www.monogram.com