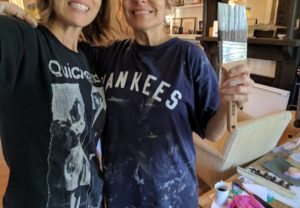 Ok. I am trying to put together what happened over the past 5 weeks. It's a bit of a sleep deprived, caffeine induced time, ending with, surprisingly fabulous results. Kind of like Hangover for designers. Curt words were spoken to one another followed by tears and high fives congratulating each other on a job well done. It all started when a nice man approached my sister's husband with a crazy, "what if " type of thought. "Could their home be part of the annual neighborhood association walking tour? " Mike said, "Great idea." He proceeded to sit down at his desk and get back to work. It is important to note here that his work differs greatly from the work needed to ready a home for a walking tour.
In comes… TA-DA! Centered –Interiors! All joking aside, we were up for the challenge and this was the motivation needed to turn Mary's newly acquired 1900's house into a home. Our goal was to spruce up the lower floor without any major remodeling, as there was no time to do so. (But keep in mind that day will come! Mary has plans to prove it.)
The house called for drama with a nice dose of "happy mischief." Mary could not imagine their home with a serious Victorian vibe. Her style screamed for an eclectic mix of old and new. The library was the first to be addressed. It has 10 and 1/2 foot ceiling height bookshelves, a beautiful fireplace, original floors and two big windows. Even with the windows the room felt dark and uninviting. The darkness didn't stop us from choosing a saturated color from Farrow and Ball called London Clay.
The color reads purple as it is loaded with magenta pigment. In differing light it also has a lovely rich brown color. It was and is a winner! We were able to add the desired drama with a dark color but brighten the room with white bookcases and semi gloss white woodwork.
A Mitchell Gold Bob Williams couch was found at a local store in Louisville called Scout.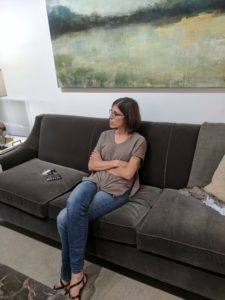 (We absolutely fell in love with them and spent an enormous amount of time there.) The couch is a stunning gray that is coupled with unexpected chartreuse pillows .
The entire space was elevated to a new level of happy, thanks to the yellow being used on the bookshelves. Mike and Mary's huge collection of National Geographic's added that accent. The family's personality shines through their photos and choice of personal and special mementos.

The end result involved a bench for sitting to put on shoes, an amazing textured chair and a rug from the spectacular local vendor Francis Lee Jasper. The rug was a happy accident that tied in all the colors.
We have had to acquiesce to our dog Tuner's demands by leaving "his" chair in the corner. He thinks he has won, but don't tell him that it was a compromise to save the new furniture.