With the arrival of fall I can't help but think about the coziness of a well-made bed. I took to the internet to do some online browsing of blankets, pillows and sheets and stumbled upon some great bedding .I found some inspiration and information to achieve bedding Nirvana.
The first step is…wait for it… a good mattress. Why just have a beautiful looking bed when you could combine that with a great night sleep. A good mattress will last 8-10 years. If you are a side sleeper you would benefit from a soft mattress. A stomach and back sleeper needs something firmer. Top that with a cotton mattress pad and you are on your way to dreamland.
Next step is to add the fitted sheet. Invest in the highest quality sheets you can afford. 100% cotton is the hands down choice opposed to linen or jersey fabric. If you like the feel of satin, try cotton woven with a sateen weave. For a crisper feel that is similar to a men's dress shirt, go with percale weave. Just a quick side note, thread count does matter. Stay away from anything higher than 430 count as some manufacturers use creative weaving and counting methods that don't necessarily result in higher quality fabric. Follow this with the "optional" albeit controversial top sheet. 40% of Americans don't use it because it gets jumbled up and slows down the bed making process. (No, I did not make that up).
There is a solution for those who like the look of a made bed with a top sheet but can't find the time to do it, its called The Nova Duvet Cover. Lets just say, genius! It is a duvet cover and the look of a flat sheet in one. The company strategically placed a zipper instead of buttons in the middle as opposed to the end of the duvet. The flat sheet has an accented strip to mimic a beautifully made bed.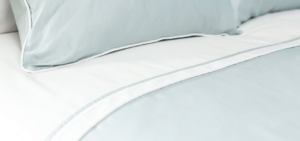 Duvet covers with a fluffy comforter is the most easy-care bedding option for your room. Choose the design and style you like and make it the statement piece. Now climb on in!