What we're about
Centered Interiors is a residential interior design firm based in Louisville, Kentucky.
Whether you are remodeling or thinking of building a new kitchen, bathroom or simply updating your home's look, we offer you the solutions, style and functionality you desire. We design spaces that reflect who you are and how you live. We promise to bring to you our unquestionable integrity and unfailing enthusiasm. We work closely with you in a collaborative effort from conception through to the final touches.
Our Story
Centered Interiors is comprised of two sisters, Mary Culbertson and Susan Haggblom that have joined forces to bring you a wealth of creative solutions for your home.
Together they bring to the table a level of creativity that has stemmed from years of artistic backgrounds ranging from fine art photography to teaching, using Montessori early childhood education methods.
They grew up with a mom whose own creativity greatly influenced their design aesthetic. Homes were deemed art projects and their walls, floors and furniture – the canvas. Their dad was an airline executive, who along with his family took great pleasure in exploring the world and its cultures. Mary and Susan consider these inspirational aspects of their lives to be a major influence in their choice of career.
Mary Culbertson
Mary is an award-winning interior design professional and a certified kitchen and bath designer coming from Portland, Oregon. She relocated to Louisville with her husband and twin daughters to be closer to her husband's family.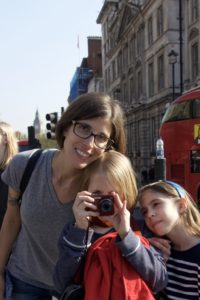 Mary Culbertson, Principal Designer
"We believe good design should solve all problems and result in a truly functional, stunningly beautiful, and timeless space. A successful design should reflect who you are and flow in such a way that improves your life."
– Mary Culbertson, Principal Designer
Susan Haggblom, Associate Designer
Susan Haggblom
Susan had been designing interiors in the New York/New Jersey area for 15 years prior to relocating to Louisville. She has two children that are now now living and working in the "BIG city" and starting their own wonderful life journeys. Her daughter, Leanne (pictures above), never fails to make her mama laugh.